The price of retail gasoline in Canada in the early 1950's was approximately a dime per liter, and the average price of silver in the early 1950 was $US 0.83 cents/oz. (USD=CDN most of the 50's). Today, if we could hold that very same 1950 silver dime which contained .06 oz of pure silver, at today's silver price that dime would be worth about $1.80 (remember that gas stations in the 50's were more like service gas stations today). Service gas stations are not far away from the $1.80/liter mark and proves my point that when you measure oil in terms of something real like silver, oil has not gone up in price. Fiat paper is being constantly debased, while silver holds up its value as mentioned above. That same silver dime in the 50's can buy you the same amount of fuel today!
Canadian junk silver coins could be a great way to accumulate silver cheaply. Purchasing .999 pure silver is subject to higher premiums and you will probably get a lot less silver for your money. Another great benefit of junk silver is the divisibility. Try paying for a carton of eggs from your neighbour with a one ounce silver maple leaf (what are you going to do–cut the coin into pieces?). Junk silver in this situation can come in handy for its divisibility: it comes in dimes, quarters, half-dollars, and dollars which could make barter and trade much easier. Junk silver is also considered "legal tender coins" and you can avoid the assaying charges which are usually incurred by bar-holders if you sell them. The price of these coins vary every day as the price of them essential follows the spot price of silver traded on the markets. But before purchasing Canadian junk silver coins, there are a few things to consider and to watch out for. Here is what you need to know!
Canadian Silver Coins Pre-1920
Canadian silver coins dated before 1920 are (.925%) silver. These coins are usually rare and could be charged a premium. Unless your aim is to collect old coins as collectibles I wouldn't suggest purchasing these coins. I would avoid all numismatic and all historical coins. You can accumulate much more silver with coins minted between 1920-1966.
Canadian Silver Coins 1920 – 1966
Dollars, half-dollars, quarters, and dimes from 1920 – 1966 consist of 80% silver by weight. A calculation to figure out the pure silver weight is by multiplying 0.6 oz per dollar of coinage.  For instance, the calculation for a dime is 0.6 x .1 = .06 oz of pure silver; or $10 face value is 0.6 x 10 = 6 oz of pure silver). Multiplying the total by today's price would give you the "melt" value of the coins. These coins are the best type of silver junk coins you can find for your money. See below for our store dealer reviews and where to get them for the best possible price.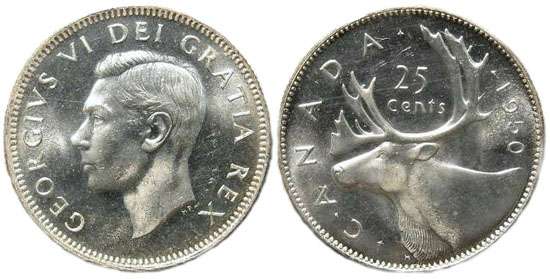 Canadian Silver Coins 1967 -1968
The tricky part comes with the 1967 and 1968 coins.  If you are new to junk silver its probably best to avoid 1967 and 1968 coins. In 1967 the Canadian mint shifted production from 80% to 50% on some of the coins.  It is virtually impossible to test the difference as an individual.  And the silver coins minted in 1968 moved from 50% silver to 99% nickel, removing any silver value post-1968.  However, that shift was made mid-year and many 50% silver quarters and dimes. A magnet can be used to test the content of the coins.  If the coins stick, it is nickel; if not, it is silver.  At 50% the "per dollar" value of the coin, use a multiplier of .375 oz per dollar of coinage.  Using the example above, $10 face value of 1968 coins would be 0.375 x 10 = 3.75 oz of pure silver. Here is the coin breakdown for 1967 and 1968 Canadian silver coins:

Canadian Junk Silver Prices
For live prices of Canadian junk silver, half dollars, quarters, and dimes, see here.
Or you can see this useful Canadian junk silver calculator to determine bulk prices here.
Canadian Junk Silver Tax Issues.
Junk silver can be a great way to accumulate silver for low premiums, however, these premiums can often times be voided if taxes and other fees are applied. In Canada, pure gold and silver bullion and coins are tax-free. The CRA defines non-taxable pure gold to be at least 99.5% and pure silver at least 99.9%. Depending on where you live in Canada, junk silver will be subject to a sales tax(GST/HST) if you buy online via a coin dealer, and even  perhaps a PST tax if you buy from a local coin shop (If your place of residence is subject to a PST). Check with the dealer before purchasing. In any case, there are ways to minimize and avoid extra fees.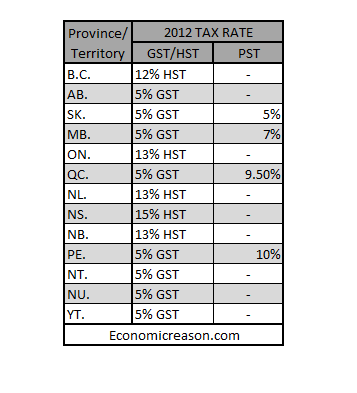 Where to buy Canadian Junk Silver?
Typically, the premiums for junk silver is lower than for pure gold and silver. I've seen premiums anywhere from 0% to 5%. Nevertheless, here is a good list to find Canadian junk silver coins at good rates.
1. Ebay
Possibly one of the best ways to accumulate Canadian junk silver at low premiums, low shipping and even possibly tax -free. Make sure you are buying from a reputable seller with a good rating. See below for great deals on current Canadian silver coins for sale on ebay. I created an awesome ebay RSS feed that you can see here. Use this RSS to never miss out a great deal.


2. J&M
Based in Vancouver, British Columbia, this coin dealer has been in operation for over 40 years and reportedly has junk silver continuously available for a low premium over-spot. If you live in BC, you will be subject to the full HST tax, and if you live in Alberta you will be charged the 5% GST tax. You must call to reserve your order.
Based in Ontario, this small coin dealer occasionally has junk silver for sale. I have seen junk silver at this place for practically spot price and a low shipping fee. However, depending on the province in which you live, you will be charged a sales tax. For instance, if you live in Ontario you will be charged the full 13% HST tax, while if you live in Quebec, Alberta, Sask, P.E.I., Man, NT, NU, and YT  you should only be charged the 5% GST. Check your local tax code just to be sure. Orders can be filled online.
Based in Alberta, Canada, I got quoted for junk silver here at a very low premium with a good shipping rate. However, a GST/HST tax will be applied to your order. You must call to reserve your order.
Based in Alberta, Canada, this precious metal dealer also sells Canadian junk silver. At the time im writing this, the premium of junk silver is being traded at 0.5% above spot price. Must call to reserve price.
6. Classifieds and Garage Sales
Some of the best deals for junk silver can be found on local classifieds (i.e. craigslist or kijiji) However, note that there are many scam artists on these sites, so proceed with caution. When you are new to accumulating junk silver, it would probably be best to avoid this option. Nevertheless, when you familiarize yourself with junk silver, these places could be a great way to accumulate silver at or below spot prices.
7. Other Sources
You can also buy junk silver across the border, but you can be subject to an import tax and possibly high shipping fees. If you are Canadian, it is probably best to stick with Canadian sources to avoid the extra costs. Unless if you are traveling to the US, then it might be worth picking up a junk silver bag. Junk silver in the US is 90% pure silver and a good way to diversify your silver coins. Also, if your traveling in the US, you might want to look at Canadian junk silver too, if they have any available. Prices for Canadian junk silver coins can be seen at lower than spot prices!! I am sure that there are other great coin shops where you can find great deals, and if you know of any of them, post it in the comments section below.
How to sell junk silver?
At the end, junk silver could be a great way to accumulate silver cheaply. However, one point worth mentioning is that banks will only pay you face value for the coins if you try to sell them there. If you want to sell your junk silver, you can usually sell them back to a coin dealer. You can also sell them on craigslist or ebay and you might get a better price.
However, another strategy is to trade them at spot price for something you need later on, giving you the best price for your junk silver. At a time where these are many risks ahead in our financial system, I suggest it would be wise to prepare yourself in ahead of times with real money, one with intrinsic value.